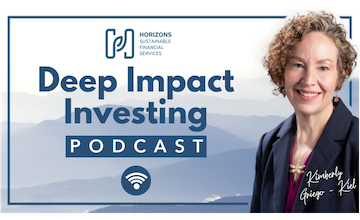 56. Leadership & Community Investments as Crucial ESG Components — Part 2
In October 2021, Kimberly Griego-Kiel took part in the ESG For Impact! Conference in Colorado Springs. 
Now back with part two of her ESG for Impact! miniseries, Kim welcomes George Gay, the CEO of First Affirmative Financial Network, and Ebony Perkins, Self-Help Credit Union's Vice President and Director of Investor Relations. 
George and Kim explore George's military background and ways to gain leadership within the environmental, social, and governance investing arena, while Ebony reviews everything you need to know about community investments. Plus, she shares how Self-Help Credit Union can support you when you need it the most. 
Kim, George, and Ebony discuss:
Resources:
Connect with George Gay:
Connect with Ebony Perkins:
Connect with Kimberly Griego-Kiel
About George Gay:
George has worked at First Affirmative Financial Network since 1986, serving as the CEO since 1999. First Affirmative is a leading provider of professional services to investment professionals who focus on socially responsible investing, sustainable investing, ESG investing, and/or Impact Investing. Through their managed account service, Sustainable Investment Solutions TM, they currently manage roughly $1 Billion for clients around the country. Geroge is recognized as an industry role model and mentor. He's a highly sought-after speaker, panelist, and counselor. He is a past recipient of the industry's "SRI Service Award."
About Ebony Perkins:
Ebony is a dedicated, solution-oriented social entrepreneur with a passion for community investing. In her career, she has scaled operations across 70 individual branches and 800 employees to grow cash investments in the social impact space, nearly doubling investments YoY from 2020 – 2021.  She has participated on a leadership team that has led overall deposit growth from $1.2B to $2.5B over five years through strategic planning, business development initiatives, and mergers and acquisitions. Ebony was elected to the Board of US SIF in 2020, the leading voice for sustainable investing across all asset classes. She has secured $250M + in community investments by engaging foundations, high net worth individuals, and Fortune 100 companies across industries, including tech, consumer goods, and financial services.
Podcast: Play in new window | Download | Embed
Subscribe: Google Podcasts | Spotify | Stitcher | Email | TuneIn | RSS | More