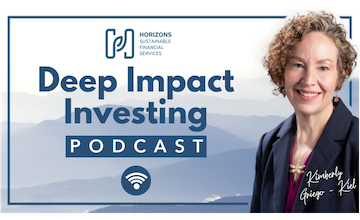 Looking Towards a Positive 2022 with Aarón Garza and Johann Klaassen (Ep. 60)
As the new year brings you new opportunities and goals, remember to look toward the positive in both your personal and professional life.
In this episode, Kimberly Griego-Kiel sits down with Aarón Garza, vice president for operations and compliance at Horizons Sustainable Financial Services. Kim and Aarón discuss his family, his professional background, and ways his new role will contribute to the team at the office. 
Additionally, the firm's chief investment officer, Johann Klaassen, sits down with Kim to review the economic and market data from 2021 and what's to come for 2022. 
Kimberly, Aarón, and Johann discuss:
Resources:
Connect with Aarón Garza 
Connect with Kimberly Griego-Kiel and Johann Klaassen:
About Aarón Garza:
Aarón joined Horizons Sustainable Financial Services from the world of higher education administration, where he was involved in making sure that the offices, departments, and activities of a large university remained in compliance with all state and federal laws and regulations related to non-discriminatory practices. 
Aarón is from El Paso, Texas. He earned his B.A. from St. John's College and his J.D. from the S.J. Quinney College of Law at the University of Utah. Aaron is also a former U.S. Army infantryman and a combat veteran of the Persian Gulf War.
About Johann Klaassen:
Johann is Horizons Sustainable Financial Services' executive vice president and chief investment officer. Here he develops asset allocation strategies and oversees investment policy for Horizons' individual and institutional clients. As a passionate advocate for SRI, a skilled navigator of its intricacies, and an enthusiastic early adopter of just about every new communication tool and technology, Johann is informed, informative, and far more accessible than his many commitments might imply. He directly serves clients across the nation, tending to specialize in serving unusual and special circumstances or needs.
Podcast: Play in new window | Download | Embed
Subscribe: Google Podcasts | Spotify | Stitcher | Email | TuneIn | RSS | More