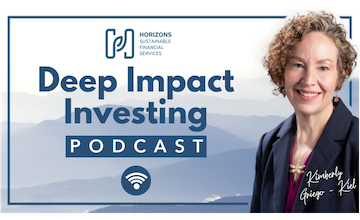 58. Bridging the Gap Between the ESG Investing and the Financial Industry With Jim Horlacher and Reem Fatayerji
The gap between the mainstream financial world and the socially responsible investing arena may seem vast. 
But, believe it or not, there are ways to bridge the two. This is exactly what Kimberly Griego-Kiel discusses with her guests in this fourth and final episode of the ESG for Impact! miniseries.
This week, Kimberly sits down with First Affirmative Financial Network's investment advisor, Jim Horlacher, to outline how the financial industry is blending into the socially responsible investing field, the reasons why he's passionate about the industry, and how the ESG for Impact! conference is shaping the future of ESG investing.
Duke University MBA student Reem Fatayerji also joins Kim to highlight ways the ESG investing arena can be more impactful and the barriers the industry needs to overcome to grow its impact.
Kim, Jim, and Reem discuss:
Resources:
Connect With Jim Horlacher:
Connect with Reem Fatayerji:
Connect With Kimberly Griego-Kiel:
About Jim Horlacher:
Jim helps socially and environmentally conscious investors manage their money to make a positive impact on their lives and our whole world. With over 25 years of experience, he is deeply committed to social justice and sustainability. Jim is focused on helping clients develop clear, disciplined financial strategies that take into account our shared Triple Bottom Line of People, Planet, and Profits. He holds an AIF Professional, Accredited Investment Fiduciary, an MBA from the University of Edinburgh (Scotland, UK), and a BS in Business, Economics, and Computer Science, Baker University (USA). Jim also volunteers with and financially supports a wide variety of progressive organizations and campaigns locally, nationally, and internationally, and has served in leadership positions in many of them. He participates in several networks including, the First Affirmative Financial Network, LLC, Green America / Green Business Network, US SIF, The Forum for Sustainable and Responsible Investment.
About Reem Fatayerji:
Reem is completing her MBA at Duke University, where she is a speakers/events coordinator for the impact investing cohort after earning her bachelor's degree in International Relations and Economics at the University of California, Davis. She previously worked in a consulting firm supporting nonprofits in impact management, finance, and strategy, and as an analyst with an investment consulting firm.
Podcast: Play in new window | Download | Embed
Subscribe: Google Podcasts | Spotify | Stitcher | Email | TuneIn | RSS | More