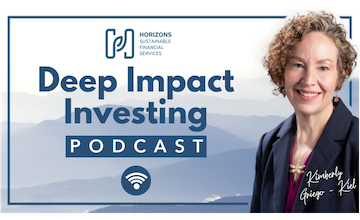 57. Sustainable Shareholder Advocacy with Leslie Samuelrich, Sam Adams, and Sarah Adams – Part 3
57. Sustainable Shareholder Advocacy with Leslie Samuelrich, Sam Adams, and Sarah Adams – Part 3
For this episode of the four-part ESG for Impact! miniseries, Kimberly invites three difference-makers in sustainable shareholder advocacy to outline their unique focus on ESG investing and mutual funds.
This week, Leslie Samuelrich, the president of Green Century Funds, and Kim explore plastic pollution, recycling, climate change, sustainable supply chains and how Leslie's campaigns are pushing for change in these areas.
Additionally, Vert Asset Management's Chief Executive Officer, Sam Adams, and Chief Sustainability Officer, Sarah Adams, join Kim to explain how they work together to drive change with sustainable real estate with companies that are either constructing or maintaining buildings.
Kim, Leslie, Sarah, and Sam discuss:
Resources:
Connect with Leslie Samuelrich:
Connect with Sam Adams:
Connect with Sarah Adams:
Connect with Kimberly Griego-Kiel
About Leslie Samuelrich:
Leslie leads Green Century Capital Management and focuses on the firm's investment strategies, business development, and impact investing program. The Green Century Funds have experienced 570% growth under her leadership. Ms. Samuelrich has more than 25 years of experience in ESG investing, corporate engagement, and environmental and public health advocacy. Her comments have appeared in The Wall Street Journal, Bloomberg, the New York Times, Responsible Investor, Barron's, and many other outlets. She currently serves on the Board of Directors of the Forum for Sustainable and Responsible Investment (US SIF) and the Advisory Board of the Intentional Endowments Network. 
About Sam Adams:
Sam is the CEO of Vert Asset Management.  Sam is an environmentalist and a capitalist passionate about preserving and defending nature and has worked as an investment professional. He has 20 years of experience at Dimensional Fund Advisors, where he learned the power of the markets as an Investment Professional. Sam is passionate about making sustainable investing easier for financial advisors and their clients. He also holds a BA from the University of Colorado, Boulder, and an MBA from UC Davis Graduate School of Management. 
About Sarah Adams:
Sarah is the Chief Sustainability Officer and Co-founder at Vert Asset Management. Sarah leads on the engagement processes to define how the company operates, ways to influence the financial services sector, and ways shareholders can be active stewards of capital for ESG and better business practices. She started in financial services at a boutique brokerage firm during the late 90s dot-com boom.  
Podcast: Play in new window | Download | Embed
Subscribe: Google Podcasts | Spotify | Stitcher | Email | TuneIn | RSS | More