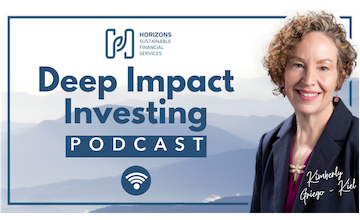 Learn How To Take Advantage of the Inflation Reduction Act — Part I with Pooja Khosla (Ep. 92)
If you're a small business owner looking to contribute towards combating climate change while also strengthening your business, make sure to stream this week's episode of Deep Impact Investing with Pooja Khosla, the Chief Innovation Officer at Entelligent.
This week, Pooja shares five ways small businesses can utilize government incentives under the Inflation Reduction Act to go green. Through her discussion on 'greenflation' and why it matters for our economy, Pooja emphasizes the value of proactively protecting our planet (as individuals and as businesses).
By providing practical suggestions, such as switching to renewable energy and investing in green technology, learn the strategies you need to take advantage of tax breaks while making positive environmental changes.
Pooja discusses:

Ways her article covers the Inflation Reduction Act and its benefits for small businesses

The government incentives for going green

What's 'greenflation' and how it's impacting our economy

 Five changes small businesses can make to benefit from the Inflation Reduction Act

And more!
Resources:

Connect with Pooja Khosla:

Connect with Kimberly Griego-Kiel and Johann Klaassen:

About Our Guest:

Dr. Pooja Khosla is the Chief Innovation Officer at Entelligent. Dr. Khosla is an econometrician and data scientist with extensive experience in data analysis, predictive modeling, econometrics, statistics, microfinance, and mutual fund analysis. 
Dr. Khosla is one of the inventors of the patented Smart Climate® technology. She brings her international background in finance, academia, predictive modeling, and statistical software platforms to the company, leading product and client development. 
She has published articles and papers in trade journals, including Pensions & Investments, CFA NYC, and Morning Consult.
Podcast: Play in new window | Download | Embed
Subscribe: Google Podcasts | Spotify | Stitcher | Email | TuneIn | RSS | More