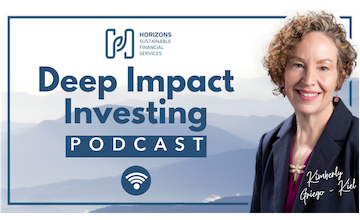 Critical Climate and Diversity Stakeholder Resolutions for 2023 with Andy Behar (Ep. 85)
How much do you know about corporate responsibility and sustainability?
This week, Andy Behar, the CEO of As You Sow, joins Kim Griego-Kiel to talk about the nonprofit organization's role in shaking up the business world with its innovative environmental and social justice approach. 
Listen in as Andy details the ins and outs of creating a more sustainable and equitable future for this and the years to come.
Andy discusses:
As You Sow's vision and mission  

The importance of climate action in the corporate resolution filings for 2023 

The value of more companies incorporating diversity, equity, and inclusion

As You Sow's role in helping companies minimize the dangers of pesticides in our food system

What you should know about company transparency and accountability 

Ways As You Sow is working to reduce plastic demand 

What you should know about stranded assets

And more!
Resources:
Connect with Andy Behar:
Connect with Kimberly Griego-Kiel:
About Our Guest:
Andy Behar is CEO of As You Sow, the nation's leading non-profit practitioner of shareholder advocacy and engagement. With a 30-year track record of success, the organization advances values-aligned investing and uses shareholder power to compel companies to reduce material risk on issues including climate change; toxins in the food system; ocean plastics; diversity, equity, and inclusion; racial justice; and wage equity.
Podcast: Play in new window | Download | Embed
Subscribe: Google Podcasts | Spotify | Stitcher | Email | TuneIn | RSS | More