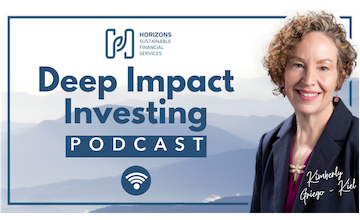 Your Quarterly Market Update with Johann Klaassen (Ep. 98)
What's new in the market? 
How's the investment arena doing so far? What if we all started investing like we truly cared?
In this episode, Kimberly Griego-Kiel and Johann Klaassen navigate the current markets while providing a snapshot of the economy and all things inflation and investing. They debunk common misconceptions surrounding gold as an investment and shed light on the increasingly popular concept of 'green gold' and its actual environmental impact. 
Kim and Johann leave no stone unturned! Listen in as they guide us through the uncharacteristic behaviors of bonds and the implications of investing in precious metals.
Throughout the episode, Kim and Johann discuss:
Advice for those concerned about their portfolio or the markets

The intriguing phenomenon of uncharacteristic bond behavior and its potential impact

The reality behind the allure of gold as an investment and those who stand to gain

What you need to know about 'green gold' and its environmental consequences

The hidden environmental and social costs of investing in precious metals

And more!
Resources:
Connect with Kimberly Griego-Kiel and Johann Klaassen:

About Our Guest:

Johann A. Klaassen, Ph.D., is the CEO and Chief Investment Officer for Horizons Sustainable Financial Services, where he develops asset allocation strategies and oversees investment policy for Horizons' individual and institutional clients. As a passionate advocate for SRI, a skilled navigator of its intricacies, and an enthusiastic early adopter of just about every new communication tool and technology, Johann is informed, informative, and far more accessible than his many commitments might imply. He directly serves clients across the nation, tending to specialize in serving unusual and special circumstances or needs.
Podcast: Play in new window | Download | Embed
Subscribe: Google Podcasts | Spotify | Stitcher | Email | TuneIn | RSS | More