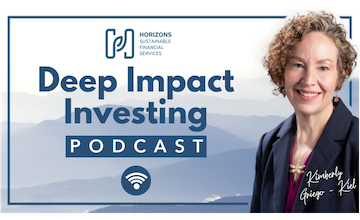 Here's What You Should Know About ESG Mistakes and Real Estate Sustainability with Sam Adams (Ep. 87)
What do real estate and sustainability have in common?
This week, Sam Adams, the CEO and co-founder of Vert Asset Management, unpacks the ins and outs of sustainable investing and the need for more sustainability in the real estate arena.
Sam shares Vert's approach to educating and encouraging companies to take the next step in their sustainability journey while highlighting how the firm advocates for more sustainability in the financial services industry.
Sam discusses:
Resources:
Connect with Sam Adams:
Connect with Kimberly Griego-Kiel:
About Our Guest: 
Samuel Adams is the CEO of Vert Asset Management. Sam is an environmentalist and a capitalist passionate about preserving and defending nature and has worked as an investment professional. He has 20 years of experience at Dimensional Fund Advisors, where he learned the power of the markets as an Investment Professional. Sam is passionate about making sustainable investing easier for financial advisors and their clients. He also holds a BA from the University of Colorado, Boulder, and an MBA from UC Davis Graduate School of Management.
Podcast: Play in new window | Download | Embed
Subscribe: Google Podcasts | Spotify | Stitcher | Email | TuneIn | RSS | More