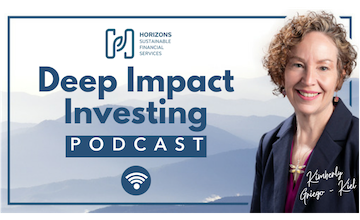 Ending Poverty and Achieving Economic Growth: Some Must-Know Sustainable Development Goals (Ep. 89)
Are you interested in learning how to reduce poverty and create sustainable economic growth for everyone? 
You are in luck because that's exactly what Kim Griego-Kiel talks about in this week's episode of Deep Impact Investing.
Kim explains how poverty, decent work, and economic growth are part of the Sustainable Development Goals (SGD) while detailing the progress made towards achieving these goals and the challenges and setbacks faced.
Kim discusses:
The increase in poverty rates and unemployment due to the pandemic and the prevalence of global child labor

The progress made towards ending poverty and sustainable economic growth 

The role of inflation, the pandemic, and child labor when it comes to achieving these goals 

Digital technology and financial services as tools to improve the lives of people living in poverty

What you should know about microfinance 

The truth about consumer protection and credit card reward programs

And more!
Resources:
Connect with Kimberly Griego-Kiel:
Podcast: Play in new window | Download | Embed
Subscribe: Google Podcasts | Spotify | Stitcher | Email | TuneIn | RSS | More