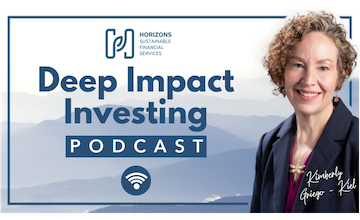 What You Should Know About Gender Lens Investing with Kristin Hull, Ph.D. (Ep.69)
Looking at investing from a gender perspective uncovers the inequalities of the economy and reveals opportunities to create more effective and efficient systems.
In this episode, Kimberly Griego-Kiel sits down with Kristin Hull, the founder, CEO & CIO of Nia Impact Capital. Kristin unveils the role gender plays in impact investing and highlights Nia's portfolio and its contribution to environmental sustainability and social justice. 
Kristin discusses:
The definition of gender lens investing

The firm's six solution themes 

How to find business success through diversity in management

Ways to incorporate gender investing in your portfolio

And more!
Resources:
Connect with Kristin Hull:
Connect with Kimberly Griego-Kiel
About Our Guest:
Kristin Hull is the founder, CEO, and CIO of Nia Impact Capital. Kristin is a conscious investor empowering individuals, families, and organizations to invest in alignment with their values for the world they want to see. She launched Nia Global Solutions in 2013 to bring activism and impact investing into the public markets. In doing so, she developed Nia's six solutions-focused investment themes, weaving a gender lens throughout the investment thesis.​
Kristin founded Nia Community Investments in 2010, a 100% mission-aligned investment fund focused on social justice and environmental sustainability in Oakland. Before Nia Community, Kristin served as President and Chair of the Board of the Hull Family Foundation from 2007 to 2011, where she oversaw all of the investment efforts, transitioning the endowment from a traditional investment portfolio to one of the country's first 100% mission impact invested portfolios. Kristin is also a co-founder of Impact Hub Oakland, a co-working space nurturing entrepreneurs and social change-makers.
Podcast: Play in new window | Download | Embed
Subscribe: Google Podcasts | Spotify | Stitcher | Email | TuneIn | RSS | More