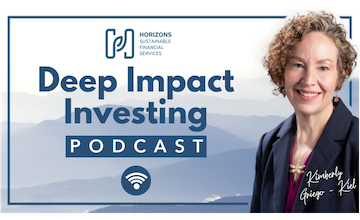 2022 Market Overview: Winners and Losers with Johann Klaassen (Ep. 84)
2022 was a year of market turmoil: The S&P 500 and the Russell 3000 were down by almost 19%, and the bond market also suffered a hit.
In this episode, Kim Griego-Kiel brings back one of our favorite guests, Johann Klaassen, the President and Chief Investment Officer at Horizons Sustainable Financial Services. Kim and Johann review the 2022 market performance while detailing the four areas that impacted the markets last year. 
Johann discusses:
The Federal Reserve's efforts to control inflation 

The US dollar currency speculation

His market predictions for 2023

What you should know about diversification 

The market's role in sustainable investing 

And more!
Connect with Johann Klaassen:
Connect with Kimberly Griego-Kiel:
About Our Guest:
Johann A. Klaassen, Ph.D., is Executive Vice President and Chief Investment Officer for Horizons Sustainable Financial Services. His role is developing asset allocation strategies and overseeing investment policy for Horizons' individual and institutional clients. As a passionate advocate for SRI, a skilled navigator of its intricacies, and an enthusiastic early adopter of just about every new communication tool and technology, Johann is informed, informative, and far more accessible than his many commitments might imply. He directly serves clients across the nation, tending to specialize in serving unusual and special circumstances or needs.
Podcast: Play in new window | Download | Embed
Subscribe: Google Podcasts | Spotify | Stitcher | Email | TuneIn | RSS | More