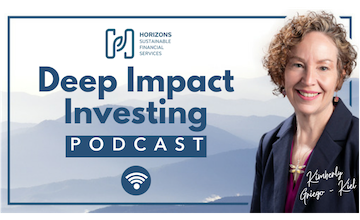 Change Not Charity: Charitable Giving For Climate Change with Jack Chellman (Ep. 80)
The traditional process for giving money to charity can leave people feeling skeptical, but when it comes to donating to charities for climate change, applying a "fund management" approach can be the solution that makes a difference. 
In this episode, Jack Chellman, the head of strategy and communications at the Global Returns Project, joins Kimberly Griego-Kiel to talk about the company's Global Returns Portfolio. Jack explains how this portfolio works as a diverse, effective, and scalable not-for-profit tool designed to regenerate the planet and protect the environment. 
Jack discusses:
Types of charitable giving 

Ways the Global Returns Project works to support climate change with not-for-profit organizations to curate investments (not for financial return)

The 3 UN Sustainable Development Goals this organization targets

Ways individual investors can get involved and the role of taxes when it comes to charitable giving 

The difference between donating stocks and cash 

And more!
Resources:
Connect with Jack Chellman:
To contribute, please click here:
Organization Name: The Global Returns Project Limited

Charity Number: 1186683
Connect with Kimberly Griego-Kiel:
About Our Guest:
With a background in journalism and social advocacy, Jack Chellman transitioned to environmental work out of concern for issues of intersectional climate justice. A Marshall Scholar, Jack holds an MPhil in Political Thought and Intellectual History from the University of Cambridge. He also earned an MSc with distinction in Media, Power, and Public Affairs from Royal Holloway, University of London.
Podcast: Play in new window | Download | Embed
Subscribe: Google Podcasts | Spotify | Stitcher | Email | TuneIn | RSS | More