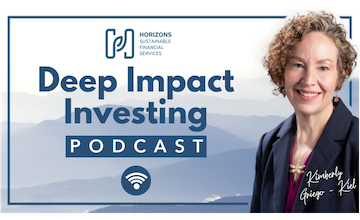 47. How Harnessing the Power of Information Can Amplify Your Values-Based Investing With Ivka Kalus
There is great power that comes with knowledge and information.
What can we accomplish if we as investors make use of data and knowledge to drive our impact investing?
In this episode, learn how Promethos Capital, an employee- and majority women-owned institutional investment boutique is doing just this. The firm's chief investment officer and managing partner, Ivka Kalus, joins Kimberly Griego-Kiel to discuss the gender gap in the investment industry while explaining her firm's experience and trajectory in value-based (ESG/SRI) equity investing.
Ivka discusses:
Resources:
Connect with Ivka Kalus:
Connect with Kimberly Griego-Kiel:
About Our Guest:
Ivka Kalus is the chief investment officer and managing partner at Promethos Capital, a majority-women-owned global asset management boutique based in Boston. She is an accomplished investor with over two decades' experience in managing global and international equity portfolios, with significant expertise in sustainable and gender-lens investing. Before co-founding Promethos, Ivka was the lead portfolio manager of International Strategies at Boston Advisors and a senior portfolio manager at Pax World Management.
Podcast: Play in new window | Download | Embed
Subscribe: Google Podcasts | Spotify | Stitcher | Email | TuneIn | RSS | More