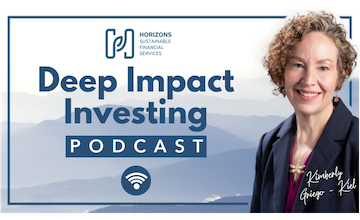 A Conversation on Disability Rights & the ESG Community (Ep. 68)
Over 15% of the world's population lives with some kind of disability. However, disability issues and rights are often overlooked when we consider Environmental, Social, and Governance (ESG) issues.
In this episode, Kim Griego-Kiel sheds light on disability rights and the lack of attention it receives in ESG conversations. She highlights why disability inclusion is critical for approaching ESG holistically and unveils how inclusion contributes to successful business operations. 
Kimberly discusses:
How the Disability Equality Index is improving ESG and the impact investing arena

The purchasing power the disability community holds globally

Reasons it's critical for organizations to be inclusive for their business success 

The difference between diversity and inclusion  

And more!
Resources:
Connect with Kimberly Griego-Kiel:
Podcast: Play in new window | Download | Embed
Subscribe: Google Podcasts | Spotify | Stitcher | Email | TuneIn | RSS | More