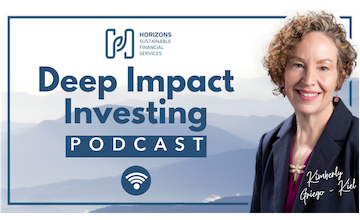 Driving Economic Transformation In Africa & Latin America — Part I with Ladé Araba and Hayley Mundeva (Ep. 90)
Have you heard of the AlphaMundi Foundation?
Also known as AMF, the AlphaMundi Foundation's mission is to strengthen the long-term commercial viability of small and middle-sized enterprises (SMEs) in Africa and Latin America to drive economic transformation. 
In this week's episode, Kim Griego-Kiel is joined by Hayley Mundeva, the communications lead, and Ladé Araba, the executive director at the AlphaMundi Foundation, to talk about SMEs and their critical role in female job creation, economic development, and innovation.
Tune in and learn how the AMF supports these enterprises through technical assistance and gender-inclusive policies leading to a positive social and environmental impact. 
Ladé and Hayley discuss:
Resources:

Connect with Ladé Araba:

Connect with Hayley Mundeva:
Connect with Kimberly Griego-Kiel and Johann Klaassen:

About Ladé Araba:
Ladé Araba is a highly-skilled, multilingual Development Finance Executive and Board Member experienced in blended finance, infrastructure/energy project finance, and public-private partnerships (PPP) with over 20 years of professional experience. 
Well-versed in deal origination, investment appraisal, and advising private investors and government stakeholders, Ladé is a strategic leader who is adept at building strong partnerships with private and public clients. 
About Hayley Mundeva:
Hayley Mundeva is a driven professional with a diverse background in Global Health and Development. With an entrepreneurial mindset and a passion for storytelling, Hayley is dedicated to helping people and organizations achieve their goals and maximize their impact.
With extensive experience in communication strategy development, project management, and stakeholder engagement, Hayley has worked on a variety of projects and initiatives, ranging from community-based health programs to international development initiatives.
Podcast: Play in new window | Download | Embed
Subscribe: Google Podcasts | Spotify | Stitcher | Email | TuneIn | RSS | More