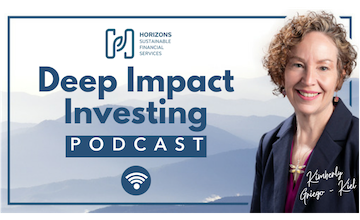 Episode 1 — Meet Kimberly Griego-Kiel and Johann Klaassen of Horizons Sustainable Financial Services
Episode 1 — Meet Kimberly Griego-Kiel and Johann Klaassen of Horizons Sustainable Financial Services
Welcome to the inaugural episode of the Deep Impact Investing Podcast!
Today you will meet your hosts, Kimberly Griego-Kiel and Johann Klaassen. As Accredited Investment Fiduciaries™ at Horizons Sustainable Financial Services, Kimberly and Johann help clients who have a real passion for sustainable investing.
In this episode, Kimberly and Johann share more on what they do, why they love it, and who they are outside the office.
In this episode, you'll learn:
How Kimberly and Johann found their passion for sustainable investing

Why they don't have minimum asset requirements for potential clients

The three parts to their financial philosophy

What Kimberly and Johann would dedicate their lives to if they had all the money in the world

And more!
Tune in now to meet Kimberly and Johann and find out what they'll be bringing to this podcast!
Resources: Horizons Sustainable Financial Services | 505.982.9661 | info@horizonssfs.com | Horizons Facebook
Our Sponsors: Calvert Research and Management | Pax World Funds | Trillium Asset Management
Podcast: Play in new window | Download | Embed
Subscribe: Google Podcasts | Spotify | Stitcher | Email | TuneIn | RSS | More