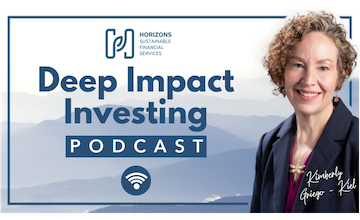 49. Investments That Positively Impact Society and the Environment With Alyssa Greenspan, CFA, and David Sand
49. Investments That Positively Impact Society and the Environment With Alyssa Greenspan, CFA, and David Sand
Many investors who want to make a positive impact with their dollars find it difficult to identify investment opportunities that will help them accomplish this.
That's where ESG investment companies like Community Capital Management can help.
Managing over $3 billion in assets and fully aligned with the UN sustainable development goals, Community Capital Management works to help clients develop investment strategies that contribute to positive environmental and social outcomes.
This week, CCM's Alyssa Greenspan and David Sand join Kimberly Griego-Kiel to discuss the company's client investing and reporting approach.
Alyssa and David discuss:
Resources:
Connect with Alyssa Greenspan and David Sand:
Connect with Kimberly Griego-Kiel:
About Alyssa Greenspan, CFA:
As Community Capital Management's president and chief operating officer, Alyssa is responsible for strategic planning, human resources, and new product development. Alyssa is responsible for managing the day-to-day activities and operations of the firm. She also oversees risk management, including portfolio compliance and client service.
About David Sand:
As Community Capital Management's chief impact strategist, David is responsible for furthering the scope of CCM's impact analysis including metrics, outcomes, and reporting. As the firm's subject matter expert on impact and ESG investing, he is involved in client relations and creating new impact and ESG investing strategies to meet the needs of existing and future clients.
Podcast: Play in new window | Download | Embed
Subscribe: Google Podcasts | Spotify | Stitcher | Email | TuneIn | RSS | More