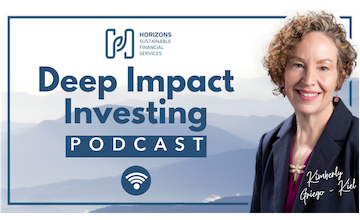 VegTech™ Invest, The Revolution in Plant-Based Innovation ETFs ⁠— Part 2 with Elysabeth Alfano (Ep. 79)
Plant-based innovations in food play an important role in solving food insecurities. 
So, how do we reduce plastics in packaging without using animal-based materials?
In this episode, Elysabeth Alfano is back to explore the ins and outs of our current plant-based revolution. Elysabeth sheds light on investing in animal-free meat and the reasons we need to move away from plastic packaging.
By exploring market trends and reviewing the different sustainable options in food and packaging around the world, Elysabeth also explains ways that climate change and food injustices will translate to the bottom line.
Elysabeth discusses:
Resources:
Connect with Elysabeth Alfano:
Connect with Kimberly Griego-Kiel:
About Our Guest:
As the CEO of VegTech™ Invest and the advisor to the VegTech Plant-based Innovation & Climate ETF, EATV, Elysabeth Alfano combines her business leadership and investing experience in the plant-based business arena. Helping to define and grow the new investment sector of Plant-based Innovation, her expertise is investing in the companies that are innovating with plants to produce animal-free products for sustainable consumption.
A sought-after speaker, Elysabeth discusses the intersection of sustainability and the global food supply system on radio, TV, at conferences, in boardrooms, and, most recently, at the United National Global Leaders Compact Summit. She also hosts a weekly Plantbased Business Hour interview show.
Podcast: Play in new window | Download | Embed
Subscribe: Google Podcasts | Spotify | Stitcher | Email | TuneIn | RSS | More