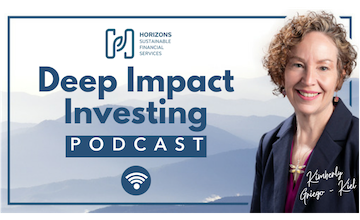 What You Should Know About Investing in Food & Plant-Based Innovation with Elysabeth Alfano (Ep. 78)
What You Should Know About Investing in Food & Plant-Based Innovation with Elysabeth Alfano (Ep. 78)
Changing what you eat has an impact on the planet, but changing how you invest has an even bigger influence.
Investing in plant-based innovations has become more accessible. And a new plant-based innovation ETF is bringing us closer to a more sustainable food system.
This week on Deep Impact Investing, Elysabeth Alfano from VegTech™ Invest details how the firm supports individual investors and companies working with plants to replace animal products and some of the eye-opening foods and products coming to the growing vegan and plant-based arena.
Elysabeth discusses:
Resources:
Connect with Elysabeth Alfano:
Connect with Kimberly Griego-Kiel:
About Our Guest:
As the CEO of VegTech™ Invest and the advisor to the VegTech Plant-based Innovation & Climate ETF, EATV, Elysabeth Alfano combines her business leadership and investing experience in the plant-based business arena. Helping to define and grow the new investment sector of Plant-based Innovation, her expertise is investing in the companies that are innovating with plants to produce animal-free products for sustainable consumption.
A sought-after speaker, Elysabeth discusses the intersection of sustainability and the global food supply system on radio, TV, at conferences, in boardrooms, and, most recently, at the United National Global Leaders Compact Summit. She also hosts a weekly Plantbased Business Hour interview show.
Podcast: Play in new window | Download | Embed
Subscribe: Google Podcasts | Spotify | Stitcher | Email | TuneIn | RSS | More