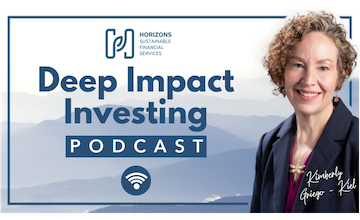 Episode 19 — Turning Trash into Couture Fashion — With Nancy Judd
Episode 19 — Turning Trash into Couture Fashion — With Nancy Judd
Did you know that trash could be used to create high-end fashion?
In today's episode, Kimberly Griego-Kiel speaks with Nancy Judd, an environmental advocate and public artist who installs traveling exhibitions of her Recycle Runway Collection in high-traffic locations like museums and airports. In a most intriguing and inspiring conversation, Nancy shares how she began making sustainable fashion out of trash, the story behind the acclaimed Obamanos coat, and why she is adamant about investing responsibly.
In this episode, you'll learn:
How Nancy came to where she is today with her work

Why she chooses to invest responsibly and to be selective of her sponsors

What different types of materials can be used to make couture clothing

And more!
Tune in to learn about Nancy Judd's work of turning trash into sustainable couture fashion. 
Resources:  Horizons Sustainable Financial Services: (505) 982-9661 | info@horizonssfs.com | Horizons Facebook | Recycle Runway
Podcast: Play in new window | Download | Embed
Subscribe: Google Podcasts | Spotify | Stitcher | Email | TuneIn | RSS | More