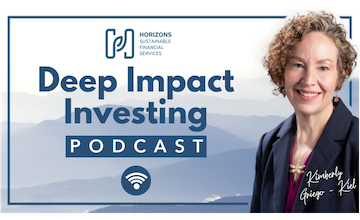 What You Should Know About Your Portfolio's Exposure to Russia with Johann Klaassen & Sonia Kowal (Ep. 67)
What You Should Know About Your Portfolio's Exposure to Russia with Johann Klaassen & Sonia Kowal (Ep. 67)
How do you hold individuals, investors, and larger companies accountable in a timely fashion when considering the conflict between Russia and Ukraine?
Learn how you can support Ukrainians from an investing standpoint in this week's episode of Deep Impact Investing. 
This week, Kimberly Griego-Kiel and Johann Klaassen welcome Sonia Kowal, President of Zevin Asset Management. Together, they talk about the Russian-Ukrainian situation while unveiling the importance of looking at corporate and individual investing exposures to Russian companies to mitigate humanitarian and financial risk. 
 Sonia, Kim, and Johann discuss:
Resources:
Connect with Sonia Kowal:
Connect with Kimberly Griego-Kiel and Johann Klaassen:
About our Sonia Kowal:
Sonia is Zenin Asset Management's President and has over two decades of investment experience in managing corporate matters, business practices, and strategic planning. She is a member of the firm's Board of Managers and the Investment Committee. She is passionate about the value of integrating environmental, social, and governance issues into investments and is a frequent speaker on the topic at conferences. She feels particularly strongly about racial equity, wealth inequality, and our disastrous criminal justice system. 
About Johann Klaassen:
Johann is Horizons Sustainable Financial Services' executive vice president and chief investment officer. Here he develops asset allocation strategies and oversees investment policy for Horizons' individual and institutional clients. As a passionate advocate for SRI, a skilled navigator of its intricacies, and an enthusiastic early adopter of just about every new communication tool and technology, Johann is informed, informative, and far more accessible than his many commitments might imply. He directly serves clients across the nation, tending to specialize in serving unusual and special circumstances or needs.
Podcast: Play in new window | Download | Embed
Subscribe: Google Podcasts | Spotify | Stitcher | Email | TuneIn | RSS | More