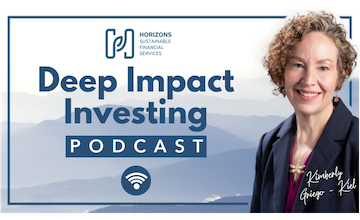 Episode 36 – The Real Horror Story: The Melting Arctic Ice Caps
Episode 36 – The Real Horror Story: The Melting Arctic Ice Caps
You may have seen brief coverage about the thawing Arctic. Your interest may even have been peaked by pictures of sad and emaciated polar bears. But the rest of the story, the real horror story, is what deserves our full and immediate attention.
In this episode, Kimberly Griego-Kiel explores the horror story that is the melting of the Arctic ice caps. Kim explains this event's impact on humanity and the earth and suggests different things we can do to improve this dire situation. 
In this episode, you will learn:
How the melting Arctic impacts our recent weather phenomenons

Kim's take on different ways to save the Arctic

How permafrost thawing can lead to gigatons of carbon into the atmosphere

Why you should consider impact investing 

And more!
Tune in today and discover how your investing can help you become more environmentally conscious! 
Resources:  Horizon Sustainable Financial Services: (505) 982-9661 | info@horizonssfs.com  | Facebook 
Podcast: Play in new window | Download | Embed
Subscribe: Google Podcasts | Spotify | Stitcher | Email | TuneIn | RSS | More