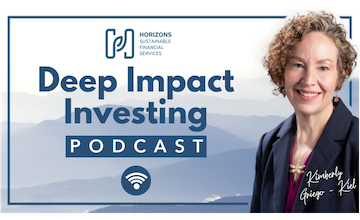 The US Forum for Sustainable Investment's (US SIF) Hill Day Wrap-Up with Rachel Curley (Ep. 95)
The US Forum for Sustainable Investment's (US SIF) Hill Day Wrap-Up with Rachel Curley (Ep. 95)
Kim Griego-Kiel was recently a part of the US Forum for Sustainable Investment's (US SIF) Hill Day in Washington, D.C. 
This event was all about educating policymakers about sustainable investing and representing the critical need for sustainable investment advisors and industry professionals to engage with our legislators and voice what truly matters.
This week, Rachel Curley, the director of policy and programs at US SIF, joins Kim to share her valuable insights and experiences from this significant gathering. Kim and Rachel reveal the takeaways from the meetings they attended while emphasizing the value of ongoing dialogue when it comes to policy decisions designed to shape the future of ESG and sustainable investing.
They cover:
Resources:
Connect with Rachel Curley:
Connect with Kimberly Griego-Kiel and Johann Klaassen:

About Our Guest:
Rachel Curley leads US SIF's policy and programming work to advance the interests and perspective of the sustainable investment community with policymakers and stakeholders. Rachel brings significant organizing, coalition-building, and public policy experience to the role.
Before joining US SIF, Rachel worked for seven years as a democracy advocate for Public Citizen's Congress Watch division, where she supported Public Citizen's work on democracy and investor protection issues. In this role, she led advocacy coalitions supporting corporate political spending and ESG disclosure.
Rachel started her career as the program coordinator for Doctors for America, where she led the charge on several of the organization's major campaigns. Rachel graduated from Indiana University Bloomington with a bachelor's degree in political science and philosophy.
Podcast: Play in new window | Download | Embed
Subscribe: Google Podcasts | Spotify | Stitcher | Email | TuneIn | RSS | More